Are you fed up with chronic lower back pain that keeps you on the "side-lines" of life?

Do you constantly worry about your back during your daily routine, during exercise like running and going to the gym or heavy lifting tasks?
Relieve your lower back pain almost instantly with the Back Support belt. Inside the Back Support are 10 health magnets that are evenly placed to increase blood flow.
The inner neoprene wrap provides compression, heat retention and security whilst criss cross elastic corrects posture and stabilises spine.
The elastic straps also remove the air gap between your back and the neoprene material; bringing the magnets closer to your skin where they will be more effective.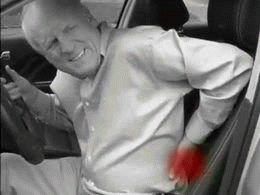 Helps you keep active, prevent injury and boost performance during activity like running, going to the gym and doing your daily activities by keeping your lower back straight and supporting proper alignment of core muscle.
Slim fitting so discreet under clothes. Wear to improve and keep form during exercise.
Features:
Relieve lower back pain instantly.
Easy to put on and adjust.
14 health magnets evenly placed to increase blood flow
Elastic double-side pulls provide adjustable compression.
Neoprene back panel also provides warmth and compression.
Vented, breathable side panels for extra comfort.
S = 100CM
M=105CM
L = 110CM
XL=115CM
Worldwide Shipping & 100% Money Back Guarantee.

Our Guarantees:
Not happy with the product? No worries, you're covered by our hassle-free returns policy.
Safe, secure and encrypted ordering. All of your information is GDPR compliant and protected by SSL and banking-grade encryption
Real, live human support if you'd like to contact us
We're backed by thousands of satisfied customers. Check out our reviews below!